Something about GearHead has been bugging me for years now and I finally decided to do something about it.
Ask yourself, what is wrong with this picture:
If you said, "That poor chap has gone over his weight carrying capacity, but he has no way of knowing how much he is carrying or how much he can carry," then you might be interested in this: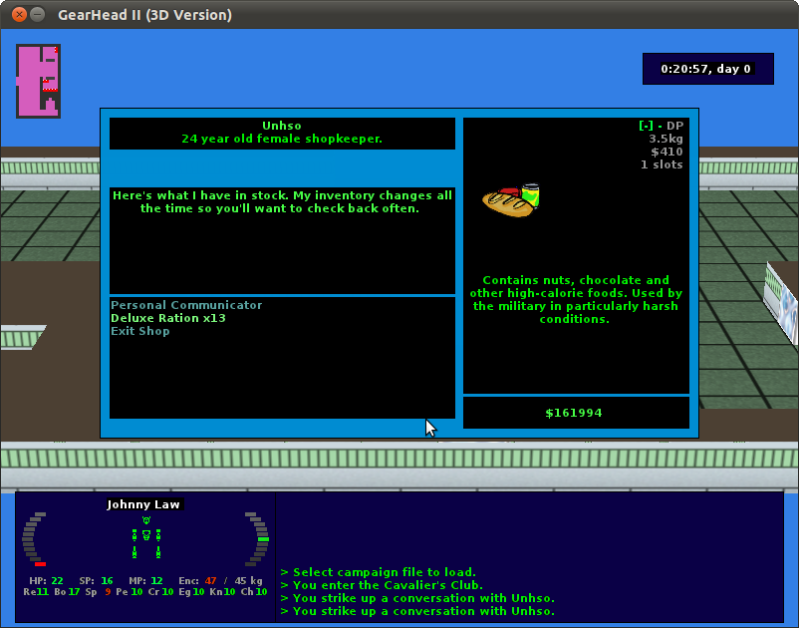 If you'll direct your attention to the lower left hand corner of the screen, you'll see that next to the HP, SP, and MP there are some new numbers. Enc (encumbrance) displays how many kg you are carrying (rounded up) and how many kg you can carry before you start incurring encumbrance penalties. If you would like to add this feature to your own game, simply replace the CharacterHPSPMP procedure (found in glinfo.pp for GH2 and in sdlinfo.pp for GHAR) with the following modified procedure and recompile the game. Enjoy!
Procedure CharacterHPSPMP( M: GearPtr );


{ Display the HP, SP, and MP for this model. }
const


StatName: Array [1..8] of String = (


'Re','Bo','Sp','Pe','Cr','Eg','Kn','Ch'


);


GutterWidth = 8;
var


CurP,MaxP: Integer;


msg: String;


T,X,S: Integer;


C: TSDL_Color;
begin


CDest.Y := CZone.Y + TTF_FontLineSkip( Game_Font ) + 65;



AI_PrintFromRight( 'HP:' , GutterWidth , NeutralGrey , Small_Font );


CurP := GearCurrentDamage( M );


MaxP := GearMaxDamage( M );


msg := BStr( CurP );


AI_PrintFromLeft( msg , CZone.W div 5 - GutterWidth , StatusColor( MaxP , CurP ) , Small_Font );



AI_PrintFromRight( 'SP:' , CZone.W div 5 + GutterWidth , NeutralGrey , Small_Font );


CurP := CurrentStamina( M );


MaxP := CharStamina( M );


msg := BStr( CurP );


AI_PrintFromLeft( msg , CZone.W * 2 div 5 - GutterWidth , EnduranceColor( MaxP , CurP ) , Small_Font );



AI_PrintFromRight( 'MP:' , CZone.W * 2 div 5 + GutterWidth , NeutralGrey , Small_Font );


CurP := CurrentMental( M );


MaxP := CharMental( M );


msg := BStr( CurP );


AI_PrintFromLeft( msg , CZone.W * 3 div 5 - GutterWidth , EnduranceColor( MaxP , CurP ) , Small_Font );



AI_PrintFromRight( 'Enc:' , CZone.W * 3 div 5 + GutterWidth , NeutralGrey , Small_Font );


CurP := EquipmentMass( M );



{ For the PC, the following encumberance penalties are applied based the the encumberance level: }


{ Speed penalty = EncumberanceLevel, Reflex penalty = EncumberanceLevel / 2 }


{ EncumberanceLevel = (EquipmentMass - (2 * GearEncumberance)) / GearEncumberance. }


{ Therefore, EncuberanceLevel = 1 when EquipmentMass = 3 * GearEncumberance. }



MaxP := GearEncumberance( M ) * 3;



{ At SF:0 each point of mass = 0.5 kg. Add 1 and divide by 2 so the integer division will round up to the nearest kg. }



msg := BStr( (CurP + 1) div 2 );



{ EnduranceColor turns from green to red as the value approaches 0. }


{ Using (MaxP - CurP) it will change from green to red as EquipmentMass approaches EncumberanceLevel = 1. }



AI_PrintFromLeft( msg , CZone.W * 4 div 5 - (GutterWidth div 2) , EnduranceColor( MaxP , MaxP - CurP ) , Small_Font );




AI_PrintFromRight( '/' , CZone.W * 4 div 5 + (GutterWidth div 2) , NeutralGrey , Small_Font );


MaxP := GearEncumberance( M ) * 3 div 2;


msg := BStr( MaxP );


AI_PrintFromLeft( msg , CZone.W - (GutterWidth * 3) , NeutralGrey , Small_Font );


AI_PrintFromLeft( 'kg' , CZone.W - GutterWidth , NeutralGrey , Small_Font );







CDest.Y := CDest.Y + TTF_FontLineSkip( Small_Font );


for t := 1 to 8 do begin


AI_PrintFromRight( StatName[t] , CZone.W * (t - 1) div 8 + 2 , NeutralGrey , Small_Font );



S := CSTat( M , T );


if S > M^.Stat[ T ] then C := InfoHilight


else if S < M^.Stat[ T ] then C := StatusBad


else C := InfoGreen;



AI_PrintFromLeft( BStr( S ) , CZone.W * t div 8 - 3 , C , Small_Font );


end;
end;